Tracy Oleson
Director of Regulatory Affairs
Tracy started her career in the food industry as a quality assurance manager. She has 16 years in animal biologics manufacturing in research & development, and 6 years working strictly on regulatory affairs. As the director of regulatory affairs, Tracy ensures compliance with all government rules and regulations. She also works with veterinarians on non-adjacent herd requests ensuring a solid epidemiological link, and regulatory documentation is met.
"The best things about working at Cambridge are the people, the atmosphere, and the opportunities."
"I frosted the donuts at the IGA bakery at 5 am on Sat and Sun. A real "gotta go make the donuts" job."
Stacy Einck-Paul
Customer Support Specialist
Stacy has worked as a veterinary technician, a licensed pharmacy technician, and has managed a professional show dog kennel. Stacy's is often the voice you will hear when you call Cambridge, and she will work to get you the answers to your questions in a friendly and efficient manner. Aside from work at Cambridge Stacy is an avid dog breeder/lover and competes at dog shows all over the world.
"I love the tight knit team atmosphere and working for an owner operated company."
"Traveling all over the world, showing my dogs at conformation shows that I have bred, own and raised."
"Going over to visit friends in Iceland and camping in July when the sun never sets and it was daylight 24 hours a day."
Jamie started at Cambridge in 2017 managing accounts in customer support. In addition to that, her job has recently expanded to include work in regulatory affairs. She works between production and customer service to ensure USDA compliance when placing orders and storing biologic material. Jamie received an associate's degree in Agriculture Business Management while caring for her son Ethan, and decided on Ag business management after growing up on a hog farm.
"I enjoy my co-workers, and I enjoy talking with vets and helping them find solutions to issues they are facing. Most days are similar, but never the same."
"I like to cook, garden, and read."
"Any vacation is a good vacation. Somewhere with cocktails on a beach."
Brooke Fletcher
Customer Service Specialist
Brooke started her career animal health career 6 years ago at Prairie Holdings where she worked in Human Resources. She joined the Cambridge Customer Support team in January of 2021. Brooke received a bachelor's degree in business marketing from Dakota State University.
Brooke enjoys working with customers and the friendly, upbeat atmosphere at Cambridge. As a customer service specialist, Brooke works closely with our clients making the whole custom vaccine process simple and easy.
"Quality, Service, Flexible."
"Spending time with my family. In the summers we camp around the area most weekends."
"My husband and I enjoyed a honeymoon in Ireland over Saint Patrick's Day."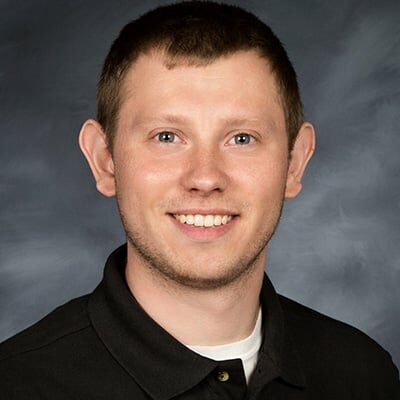 Jake Robinson
Human Resources Controller
Jake originally joined Cambridge Technologies in Manufacturing and spent two years working in various departments there before becoming Human Resources Controller in January of 2021. That "in the trenches" employee experience coupled with his degree in Human Resources Management gives Jake a unique perspective in his position. He enjoys the friendships that are forged among colleagues here, as well as the opportunity for employees to explore and grow in different areas of the company as they find the best utilization of their talents. In his HR position, Jake strives to align employee efforts to work towards one strategic goal while also helping to foster a team-oriented culture focused on the company's core values.
Lariza Valverde-Sanchez
Regulatory Administrative Assistant
As an Administrative Assistant in the Regulatory Department, Lariza assists in ensuring Cambridge Technologies' products and practices adhere to USDA standards. Her prior work experience in accounting gives her the attention to detail and logical approach that is needed when working with government protocols. Lariza said she enjoys how friendly and organized the Cambridge team is, and she describes the company as being helpful and prompt. When she is not in the office, she enjoys spending time with her family.
Sydney brings a dozen years of experience in securities, insurance, and accounting to her position as Financial Controller for Cambridge Technologies. Here, she oversees daily accounting functions, prepares periodic reports, and coordinates the company's annual budget, all of which help to ensure that Cambridge Technologies is operating effectively and efficiently. She enjoys working for such a flexible company that is loyal to its employees and customers and has such a wide array of knowledgeable people that she can learn from.
"Spend time with my children. In the summer we love to go to the lake and the zoo."
"We went on our honeymoon to Maui, Hawaii."
Cheryl brings 15 years of accounting experience to Cambridge Technologies as our Accounting Specialist. She is impressed with the company's ability to deliver advanced technology and enjoys how everyone is willing to work as a team to provide unmatched levels of customer service. When she isn't in the office Cheryl enjoys spending time with her husband, reading, and taking unplanned road trips where she just packs up and heads off to find adventure!