Dayton Williamson
Production/Fermentation Supervisor
Dayton joined Cambridge in 2016. He started his career with Merck Animal Health Worthington right out of college. There, he worked in Filling/Freeze Drying for a year before moving to Bactrin/Fermentation for the next two years prior to taking the position at for Cambridge Technologies. As the Production/Fermentation Supervisor, Dayton is responsible for supervising bacterial orders by making sure all associated media is prepared, and that all bacterial components are grown to company and regulatory quality standards.
"I'm more of the behind the scene work. I may not interact with Veterinarians directly but I take the time to try to create a quality product for them in a timely manner."
"I stay busy on my days off. I'm the Director of Worthington Youth Football. I'm a volunteer fireman working towards getting my EMT license. I'm also a member of the Young Professionals Club. And when I have any spare time in-between everything else I like to go hunting or fishing."
"Growing up my dad was an Ag Teacher and my grandpa was a farmer. I spent a lot of time with animals and livestock. I found the most interesting part of working with animals was understanding how they became ill and how they got better. That interest stuck with me throughout life which drew me to the animal health field."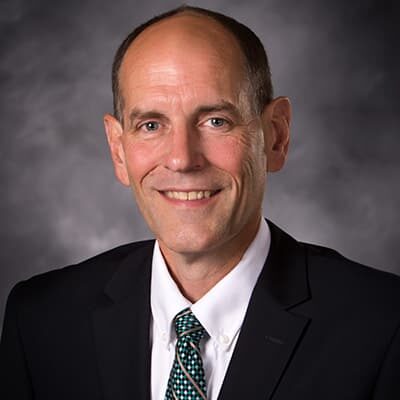 BRIAN STANDAFER
Key Account Manager, Central US
Brian has 20 plus years in sales and sales management and over 10 years in Animal Health Key account management. As a Key Account manager, Brian focuses on working directly with veterinarians, to uncover and provide solutions for the unique health challenges their customers face. He works not only to connect vets with the latest in diagnostics and autogenous vaccine development but to also facilitate cooperative opportunities between clinics.
"There are new challenges every day, but challenges are opportunities. Solving problems is what Cambridge is all about."
"You're killin me smalls"…or anything from Christmas vacation. (Actually I quote movie lines so often it usually go's over peoples head).
"Any of over a dozen summers at a lake in northern MN with my extended family. So many of us we would rent entire resorts."
Dr. Ben Hause
V.P. of R & D and Diagnostics
Dr. Hause spent five years working with Cargill Dow, LLC as a Research Scientist before joining Newport Laboratories as Director of Diagnostic Services. He comes to Cambridge Technologies from Kansas State University, where he was an Assistant Professor. Dr. Hause continues to hold adjunct faculty appointments at both Kansas State and South Dakota State Universities. He has authored more than 45 peer-reviewed publications, numerous patent applications, and has been granted five United States patents.
"The thing I enjoy most, is working closely with clients to diagnose disease and develop innovative solutions to problems."
Lynette Demuth
Laboratory Technician - Bacteriology
Lynette has 30 years of experience in bacteriology and R&D. During her career, Lynette has worked in diagnostics for both large multinational corporations and small independent companies. As a Bacteriologist, she works on many of the submissions that come into the diagnostic laboratory. She works a lot on aerobic and anaerobic culture and sensitivity as well as histology. Because of her years of experience and dedication to solving problems she has built long-lasting relationships with many veterinarians and feels personally invested in helping them.
"I really enjoy the opportunity that presents itself each day. Because of our smaller size and the growth we are experiencing, there are opportunities every day to do something new, figure out a problem, and make a difference. I really feel that the work I do directly impacts Cambridge and the customer. And the people are great."
"Passing out while working at the bench, falling off my lab chair and having to have Dr. Pfeifer drive me home."
Danielle McKeown
Diagnostics Laboratory Manager
Danielle has spent 14 years in animal health and microbiology with 12 years working in research and development and as a molecular diagnostics scientist. She also has experience as a research analyst and operations manager. As the D-lab Manager, Danielle is responsible for overseeing the day to day operations of the diagnostics lab. She manages efforts in many different areas including: bacteriology, virology, molecular biology and more.
"My favorite part about working for Cambridge Technologies is that we are a small, tight-knit company, which creates a sense of pride and ownership that you don't often experience at larger companies."
"I enjoy boating golfing walking my dogs (a German Short Hair named Bo and a Doberman named Dezi), and spending time with my husband and kids."
"When producers or veterinarians think of the word autogenous, they think of Cambridge Technologies. And then they think about how relieved they are to already be using our product."
Pam has 30 years of experience in both virology and bacteriology research as well as 5 years developing potency assays, and working in the viral autogenous area expanding isolates for vaccines. Her experience in these areas is a huge plus when working with existing as well as new isolates for production.
"I grew up on a family farm and my husband and I continue to farm with our son and his family. Knowing you are a small part of helping farmers care for their animals is very rewarding. I enjoy working with a group who have pride in what they do and dedication to get the job done well and on time."
"I like to spend time with my family. Farming, camping or just hanging out. Especially with my grandson who makes everyone smile."
"I would have to say our cruise through the Panama Canal. We were able to visit 5 countries on the trip and thoroughly enjoyed our vacation."
GARY BOSCH
V.P. of Sales & Marketing
Dr. Bosch started as a practicing veterinarian for 11 years followed by a Tech Service position with Oxford Laboratories and Upjohn Animal Health. He has worked in marketing as well as International Business Operations with Pharmacia Animal Health (previously the Upjohn Company), and later International marketing when Pharmacia was acquired by Pfizer Animal Health. Prior to Cambridge, Gary was also the Head of Farm Animal Business at Novartis Animal Health, and Senior Director US Swine Business for Elanco (Novartis Animal Health acquired by Elanco).
"Innovative, Service, and Solutions."
"Spend time with family."
"If one man can do it, another can too..." (or something like that comes from Anthony Hopkins in The Edge.)
Dr. Jie Park
Senior Research Scientist
Dr. Park received her DMV and PhD in South Korea before moving to the U.S. to further study human and animal vaccine development. She has previously worked as an assistant research Scientist at Arizona State University and most recently as a Postdoctoral Fellow at Iowa State University Veterinary Diagnostic Lab. Jie isolates porcine and bovine viruses from field samples, and is involved in many research projects at Cambridge aimed at making better vaccines.
"I like my co-workers. They are all nice, funny, and professionals in their own jobs. We have molecular diagnostic experts in PCR and metagenomic sequencing, bacteriologists, virologists, and molecular biologists. I am so excited about working with such technical professionals."
"I would like to visit my friends living in different states or other countries."
"After all, tomorrow is another day." - Margaret Mitchell, Gone With The Wind
Laura joined Cambridge in 2015. Laura has a BS in biology from the University of South Dakota, where she also worked in the neurology lab of Dr. Cliff Summers. She spent a year and a half in the Cambridge Diagnostics laboratory before transitioning to her current role as production planner. As the production planner Laura is responsible for the planning, scheduling, and release of the complete manufacturing package to production for the manufacture of finished goods in order to meet our On-Time Performance/Planning Goals, WIP, and Inventory Goals.
"With my position, I work hard to make sure that we make our products with quality materials. You can't make a good product if you only use inferior ingredients."
"On my days off I like to cook and bake. One of my favorite things to do, when I have the time, is make bread from scratch."
"When I worked in a neurology lab, one of the regular tasks I had was to watch their security videos of fish and score the levels of aggression in the interactions between the fish in the tank."
Liz joined Cambridge in 2015. She started her animal health career in the serum business unit where she was a Lab Tech in Quality Control. She transitioned to vaccine quality control in April 2016.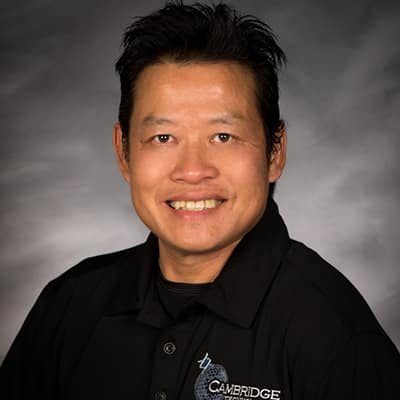 Paul has been with Cambridge since 2016. He works with the facility supervisor to keep the premises of Cambridge Technologies Manufacturing in a clean and orderly condition.
Jose has been with Cambridge since 2017. He works with the facility supervisor to keep the premises of Cambridge Technologies Manufacturing in a clean and orderly condition.
Bonnie joined Cambridge in 2017. She has held lab tech and lab supervisor positions in the past, but her work as a microbiologist at South Dakota State University is what drew her into the animal health field. As a Lab Tech, Bonnie is responsible for running qPCR tests and making sure tests results are submitted in a timely fashion.
"I enjoy working in animal health and being able to work independently, part of my focus is to manage my time very efficiently so I can get customers their results as quickly as possible."
"I like to shop and relax."
Cody has 6 years experience as a Laboratory Technician in QC ELISA at Elanco Animal Health. Prior to that Cody worked in the poultry nutrition lab at Iowa State University.
"Working at Cambridge allows me to see several parts of how the company works rather than just focusing on one job function."
"Hunting and fishing. Hiking with my wife and two dogs. Smoking food for friends."
"My wife and I went to Backbone state park in eastern Iowa and stayed in a cabin for a couple of days. Enjoyed lots of hiking with our dogs and they were able to find several dropped deer antlers which they had been trained to do."
Cathe joined Cambridge Technologies in 2017. She has a background in molecular biology, and past experience working with insect molecular genetics. In the Cambridge Diagnostics Laboratory Cathe performs a lot of next generation sequencing like metagenomics and multilocus sequence typing.
"I appreciate the good atmosphere here along with the chance to use my molecular biology experience, and opportunity to learn new things."
"Watch bad and/or cheesy movies."
"Maintained a butterfly colony for a genetics lab as an undergrad."
Kate Holtrup
Virus Production Technician
Kate joined Cambridge Technologies in 2017. As a Lab Tech, she follows standard operating procedures and aseptic practices to assist the lab supervisor in various projects.
Ian joined Cambridge in 2016. As the Facility Supervisor, he directs a staff that maintains the buildings and grounds at our Sioux Center facility. Ian also oversees the maintenance and upkeep of equipment and all critical records or repair/installation and certifications/calibrations.
Derrik has been with Cambridge since 2015. As a Lab Tech, he assists and supports the functions of multiple departments. He follows standard operating procedures and aseptic practices to lab supervisors in various projects.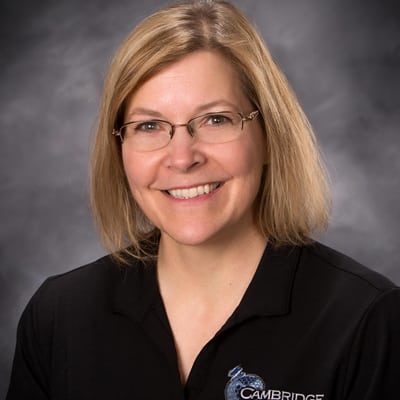 Tracy Oleson
Director of Regulatory Affairs
Tracy started her career in the food industry as a quality assurance manager. She has 14 years in animal biologics manufacturing in research & development, and 3 years working strictly on regulatory affairs. Tracy ensures compliance with all government rules and regulations. She also works with veterinarians on non-adjacent herd requests ensuring a solid epidemiological link, and regulatory documentation is met.
"The best things about working at Cambridge are the people, the atmosphere, and the opportunities."
"I frosted the donuts at the IGA Bakery at 5 a.m. on Sat. and Sun. A real 'gotta go make the donuts' job."
Nate has spent 18 years in the Animal Biologics Industry with experience in various positions in manufacturing and quality departments. At Cambridge his work has also been critical in attaining USDA product licenses and approval for regulatory requirements. Growing up on a farm raising pigs and beef cattle, and having an interest in microbiology naturally drew him into the career he started so many years ago. Nate previously worked at Newport Laboratories as Senior Manager, Biologics Quality Group.
"I like working with a great group of experienced people looking to provide solutions to our customers' problems."
"Gluing carpet strips to dock sections."
"Being outdoors with family."
Jon has over 20 years of experience in animal health biologics. Prior to Cambridge, he worked at Newport Laboratories in Diagnostics, Research and Development, Quality Systems, and Manufacturing. He has held various management positions in Production, R&D, Technical Transfer, and Regulatory Affairs. Jon was the project leader for the first and only USDA-licensed modified live Haemophilus parasuis vaccine. His interests in lean manufacturing, process improvement, and KPI assessment tools will help to lead Cambridge Technologies' manufacturing to a high level of excellence and customer satisfaction.
"We have a great team at Cambridge that I enjoy working with."
"I'm your huckleberry…" Doc Holiday, TOMBSTONE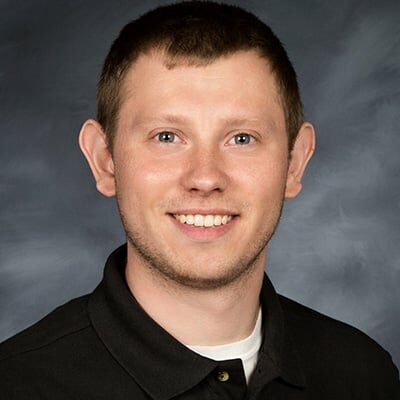 Jake joined Cambridge in 2018. As a Lab Tech, he follows standard operating procedures and aseptic practices to assist the lab supervisor in various projects.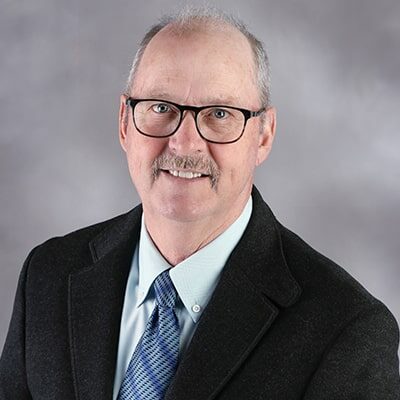 STEVE CADY
Key Account Manager, Western US
Steve has over 20 years of experience in the animal health industry. He was an animal health distributor sales representative for 26 years.
Shawntel Ryan
Quality Assurance Specialist
Shawntel joined Cambridge in 2018. As a Quality Assurance Specialist, she follows standard operating procedures and aseptic practices to assist the lab supervisor in various projects.
Eric has over 15 years of experience in the animal health Industry. Prior to working at Cambridge, he was a research scientist at Newport Laboratories. Before that, Eric spent 5 years working for Camas Inc., a company that manufactured chicken antibody-based feed additives for cattle and pigs. In high school, he also worked for a year at VMC labs in Worthington, MN.
"I enjoy the opportunity to translate ideas into products and solutions for farmers and veterinarians. The rapid speed of innovation at Cambridge has been exciting."
"More often than not, whenever I am not here I am at one of my kids' hockey games, but I also like to hunt, camp, fish, hike, bike, and spend as much time outdoors as I can. I also really enjoy traveling."
"My wife and I spent two weeks in England and Scotland for our honeymoon. That still ranks as the best vacation I've had the opportunity to take. We have also taken a couple of road trips out to Lake Placid, NY for hockey with our kids and those were a blast."
Peter Simonson
Procurement/Cost Management Supervisor
Peter has been with Cambridge since 2018. As the Procurement/Cost Management Supervisor, he is responsible for purchase and inventory management of all raw materials in our vaccine production facility. Prior to coming to Cambridge, Peter was a professional actor and chef.
"I enjoy the speed of growth here, it keeps things interesting."
"Playing Teddy Roosevelt in a one-man show and in the Medora Musical in the ND badlands for 5 months."
"Going to Amsterdam for fun, before acting in a musical in the Edinburgh Fringe Festival in Scotland."
Neil has been in the Animal Health Industry for 18 years. Before coming to Cambridge, he worked at Newport Laboratories as a lab supervisor and as a cost accountant. Having grown up on a farm it was an easy decision to pursue a career in animal health. When Neil isn't in the lab, he spends time as a basketball skills trainer, helping players of all ages develop their skills.
"I like working for a company where the owners are local, and you get to know who you are making product for."
"Basketball Skills Trainer."
"Traveling to Los Angeles in 2017 and spending two weeks assisting with on-court training of over a dozen NBA players."
DR. DOUGLAS STINE DVM, PhD
Veterinary Technical Services
Dr. Stine has been involved in the animal health industry for over 25 years and has worked with Sanofi, ImmTech, Novartis, Newport, and Merial prior to coming to Cambridge Laboratories. He is a graduate of Iowa State University with both BS and DVM degrees in 1987. He is also a graduate from the University of Nebraska in 1993 with a MS in Microbiology and PhD in Immunology. Dr. Stine has been a business owner, technical service veterinarian, and research scientist. He was a member of research teams that have licensed 6 commercial vaccines. He has authored or co-authored 6 patents, 10 publications, 40 scientific presentations, and several SVIR grants. His interests include: immuno-stimulants, mucosal immunity, microbial microfloras and bio-films, cattle and swine diseases. He has been a member of the American Association of Swine Veterinarians, American Association of Bovine Practitioners and the American Society for Microbiology. His hobbies include: golf, fishing, hunting, and attending sporting events.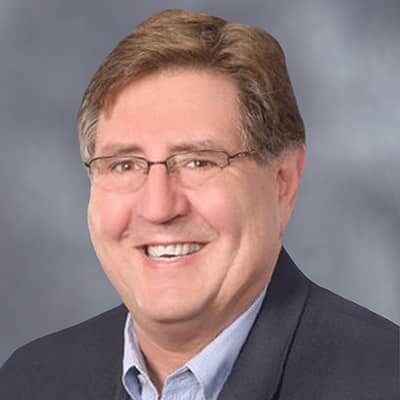 MIKE DALY
Key Account Manager, Eastern US
Mike has been involved in the Animal Health Industry for over 30 years. Most of his experience has been in sales and marketing and even spent some time in supply chain management. Mike is based in Jamestown, North Carolina and manages all of our eastern accounts. He tries to work with veterinarians as a partner, by fully understanding their challenges and offering different solutions to solving their problems.
"Inside the company, I like working with people that have so much technical expertise, and outside the company our customers, they really are the best kind of people."
"Been lucky to have had several great vacations, but the best was a 3 week 5,000 mile 3 country camping trip with my mom, 78, and daughter, 13."
"Get buys living or get busy dying." - Red in Shawshank Redemption.