Our experienced manufacturing group adapts commercial vaccine technologies to create USDA approved bacterial and viral products.
Pam has 30 years of experience in both virology and bacteriology research as well as 5 years developing potency assays, and working in the viral autogenous area expanding isolates for vaccines. Her experience in these areas is a huge plus when working with existing as well as new isolates for production.
"I grew up on a family farm and my husband and I continue to farm with our son and his family. Knowing you are a small part of helping farmers care for their animals is very rewarding. I enjoy working with a group who have pride in what they do and dedication to get the job done well and on time."
"I like to spend time with my family. Farming, camping or just hanging out. Especially with my grandson who makes everyone smile."
"I would have to say our cruise through the Panama Canal. We were able to visit 5 countries on the trip and thoroughly enjoyed our vacation."
Laura joined Cambridge in 2015. Laura has a BS in biology from the University of South Dakota, where she also worked in the neurology lab of Dr. Cliff Summers. She spent a year and a half in the Cambridge Diagnostics laboratory before transitioning to her current role as production planner. As the production planner Laura is responsible for the planning, scheduling, and release of the complete manufacturing package to production for the manufacture of finished goods in order to meet our On-Time Performance/Planning Goals, WIP, and Inventory Goals.
"With my position, I work hard to make sure that we make our products with quality materials. You can't make a good product if you only use inferior ingredients."
"On my days off I like to cook and bake. One of my favorite things to do, when I have the time, is make bread from scratch."
"When I worked in a neurology lab, one of the regular tasks I had was to watch their security videos of fish and score the levels of aggression in the interactions between the fish in the tank."
Dayton Williamson
Production/Fermentation Supervisor
Dayton joined Cambridge in 2016. He started his career with Merck Animal Health Worthington right out of college. There, he worked in Filling/Freeze Drying for a year before moving to Bactrin/Fermentation for the next two years prior to taking the position at for Cambridge Technologies. As the Production/Fermentation Supervisor Dayton is responsible for supervising bacterial orders by making sure all associated media is prepared, and that all bacterial components are grown to company and regulatory quality standards.
"I'm more of the behind the scene work. I may not interact with Veterinarians directly but I take the time to try to create a quality product for them in a timely manner."
"I stay busy on my days off. I'm the Director of Worthington Youth Football. I'm a volunteer fireman working towards getting my EMT license. I'm also a member of the Young Professionals Club. And when I have any spare time in-between everything else I like to go hunting or fishing."
"Growing up my dad was an Ag Teacher and my grandpa was a farmer. I spent a lot of time with animals and livestock. I found the most interesting part of working with animals was understanding how they became ill and how they got better. That interest stuck with me throughout life which drew me to the animal health field."
Jose has been with Cambridge since 2017. He works with the facility supervisor to keep the premises of Cambridge Technologies Manufacturing in a clean and orderly condition.
Liz joined Cambridge in 2015. She started her animal health career in the serum business unit where she was a Lab Tech in Quality Control. She transitioned to vaccine quality control in April 2016.
Kate Hawkins
Virus Production Technician
Kate joined Cambridge Technologies in 2017. As a Lab Tech, she follows standard operating procedures and aseptic practices to assist the lab supervisor in various projects.
Jon has over 20 years of experience in animal health biologics. Prior to Cambridge, he worked at Newport Laboratories in Diagnostics, Research and Development, Quality Systems, and Manufacturing. He has held various management positions in Production, R&D, Technical Transfer, and Regulatory Affairs. Jon was the project leader for the first and only USDA-licensed modified live Haemophilus parasuis vaccine. His interests in lean manufacturing, process improvement, and KPI assessment tools will help to lead Cambridge Technologies' manufacturing to a high level of excellence and customer satisfaction.
"We have a great team at Cambridge that I enjoy working with."
"I'm your huckleberry…" Doc Holiday, TOMBSTONE
Neil has been in the Animal Health Industry for 18 years. Before coming to Cambridge, he worked at Newport Laboratories as a lab supervisor and as a cost accountant. Having grown up on a farm it was an easy decision to pursue a career in animal health. When Neil isn't in the lab, he spends time as a basketball skills trainer, helping players of all ages develop their skills.
"I like working for a company where the owners are local, and you get to know who you are making product for."
"Basketball Skills Trainer."
"Traveling to Los Angeles in 2017 and spending two weeks assisting with on-court training of over a dozen NBA players."
Nate has spent 18 years in the Animal Biologics Industry with experience in various positions in manufacturing and quality departments. At Cambridge, his work has also been critical in attaining USDA product licenses and approval for regulatory requirements. Growing up on a farm raising pigs and beef cattle, and having an interest in microbiology naturally drew him into the career he started so many years ago. Nate previously worked at Newport Laboratories as Senior Manager, Biologics Quality Group.
"I like working with a great group of experienced people looking to provide solutions to our customers' problems."
"Gluing carpet strips to dock sections."
"Being outdoors with family."
Ian joined Cambridge in 2016. As the Facility Supervisor, he directs a staff that maintains the buildings and grounds at our Sioux Center facility. Ian also oversees the maintenance and upkeep of equipment and all critical records or repair/installation and certifications/calibrations.
Derrik has been with Cambridge since 2015. As a Lab Tech, he assists and supports the functions of multiple departments. He follows standard operating procedures and aseptic practices to lab supervisors in various projects.
Peter Simonson
Procurement/Cost Management Supervisor
Peter has been with Cambridge since 2018. As the Procurement/Cost Management Supervisor, he is responsible for purchase and inventory management of all raw materials in our vaccine production facility. Prior to coming to Cambridge, Peter was a professional actor and chef.
"I enjoy the speed of growth here, it keeps things interesting."
"Playing Teddy Roosevelt in a one-man show and in the Medora Musical in the ND badlands for 5 months."
"Going to Amsterdam for fun, before acting in a musical in the Edinburgh Fringe Festival in Scotland."
Cody has 6 years experience as a Laboratory Technician in QC ELISA at Elanco Animal Health. Prior to that Cody worked in the poultry nutrition lab at Iowa State University.
"Working at Cambridge allows me to see several parts of how the company works rather than just focusing on one job function."
"Hunting and fishing. Hiking with my wife and two dogs. Smoking food for friends."
"My wife and I went to Backbone state park in eastern Iowa and stayed in a cabin for a couple of days. Enjoyed lots of hiking with our dogs and they were able to find several dropped deer antlers which they had been trained to do."
Shawntel Ryan
Quality Assurance Specialist
Shawntel joined Cambridge in 2018. As a Quality Assurance Specialist, she follows standard operating procedures and aseptic practices to assist the lab supervisor in various projects.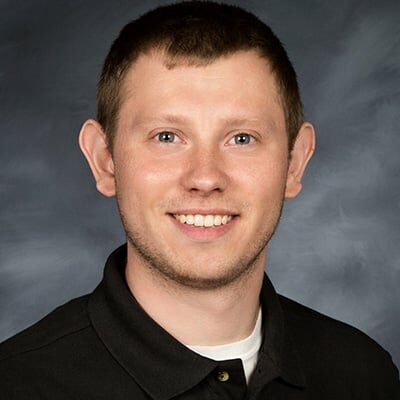 Jake joined Cambridge in 2018. As a Lab Tech, he follows standard operating procedures and aseptic practices to assist the lab supervisor in various projects.