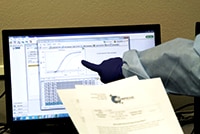 Precision Vaccinology®
Precision Vaccinology® at Cambridge Technologies combines next-generation diagnostics with advanced manufacturing to create a herd-specific, custom vaccine to help veterinarians prevent disease and possibly reduce dependence on antibiotics for bacterial pathogens.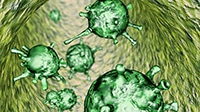 Influenza D Virus
First identified in 2011, Influenza D Virus (IDV) has been found in swine, cattle, sheep, and goats from multiple geographic locations worldwide. A member of the Orthomyxoviridae, IDV is a single-strand, negative-sense RNA virus with seven genomic segments. Influenza C Virus (ICV) is genetically the closest member of the influenza virus family, although the two share less than 50% protein sequence identity.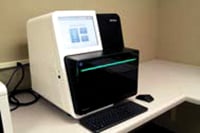 Metagenomics
The next generation in molecular sequencing for the detection and identification of viruses and bacteria includes a technique known as metagenomic sequencing. The development and adoption of metagenomic methods in the diagnostic laboratory has greatly elevated the diagnostic capabilities in challenging cases. The process involves a direct genetic analysis of the genomes contained within an environmental sample such as a nasal swab or a fecal sample, allowing for simultaneous detection of multiple infectious agents within that one sample.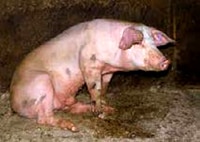 Lameness/Mycoplasma
Arthritis caused by Mycoplasma hyorhinis and Mycoplasma hyosynoviae continues to be an ongoing issue for pork producers and veterinarians. In addition to the economic loss (up to $23 per pig), there is the issue of decreased animal welfare due to reduced locomotion, pain, and general discomfort and sickness.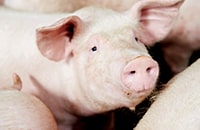 PRRS
Porcine reproductive and respiratory syndrome virus (PRRSV) has been negatively impacting pork production around the world for nearly 30 years. Since it was first identified in the late 1980s, the virus has cost the industry billions of dollars, with estimated losses of $664 million just in the United States breeding and growing-pig herds.